Get to Know Montreal 12/04/2014


Montreal, Quebec has been rated one of the best cities in the world for students. It is knownfor its vibrant, multicultural and artistic community. In total, 80 languages are spoken in the region, including French, English, Italian, Spanish, Arabic, Greek, and Vietnamese. Montreal is a city of festivals, hosting literally dozens of cultural and art festivals year-round, such as: Igloofest, Osheaga, Jazz Festival, Fashion Week, and Francopholie. With the wide variety of Montreal's architecture offers,  you will enjoy every step of a simple stroll through Old Port. Simply put—from arts, sports, music, to  events—you will find what you are looking for here.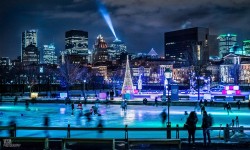 "Montreal is a great city, a terrific city." Robert De Niro, Actor / Montréal Gazette
Montréal boasts the second highest number of restaurants per capita in North America,"bursting withla crème de la crème of the culinary world." Be sure to try Montreal's famed bagels and the local legendary snack, poutine — absolutely delicious.
Whether you want to try sledding or tobogganing down  Mount Royal, snowshoeing through Jean-Drapeau, or skating outside in Old Port and the Olympic Stadium, Montreal's got you covered. Over 200km (124 miles) of cross country ski trails can be found in the city. Parc du Mont-Royal is one of the best known ones for its view. Skate for free at the Jeanne-Mance,  Sir-Wilfrid Laurier Park, Beaver Lake, Walter-Stewart Park, Jarry Park, and many others.

Montreal Awaits…
-->