Video Contest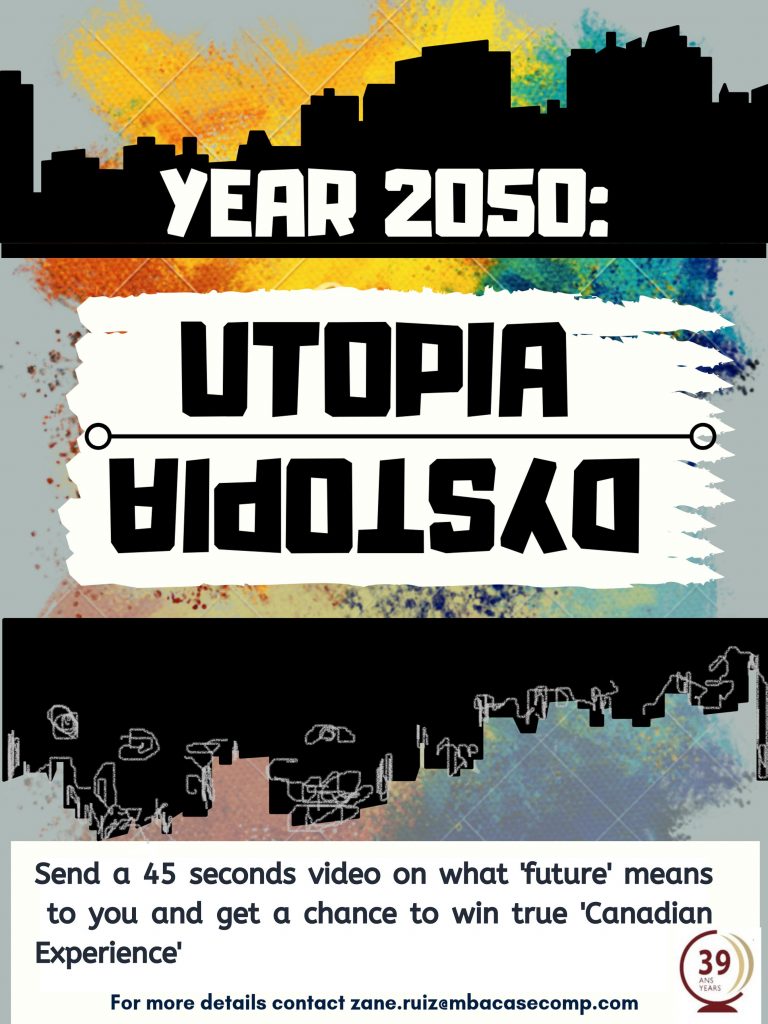 What is the video contest?
Beginning in 2017, the MBA ICC has initiated a competition within a competition to promote a more engaging environment. A theme is formulated by the organizing team and teams registered for the competition that wishes to submit a brief video reflecting the concepts associated with the theme are eligible to win prizes. This gives the participating teams get an opportunity to present their views on a given topic in a creative manner and all the viewers to get to know the teams a bit better.
What is this year's theme of the video?
This year's theme for the video is – the YEAR 2050: Utopia or Dystopia. Tell us what you think future has in for us and our businesses. So, hop into that time machine of yours and get ready to show us the future.
Is there a deadline to submit the video to be considered within the contest?
The cutoff date for receiving the videos is December 20th at 11:59 pm, any videos received thereafter will not be considered. Sorry!
Are there rules for submitting this video?
Guidelines may vary from year to year but please follow these guidelines unless stated otherwise.
Where to submit: Videos are submitted via online submission to the Organizer of Schools, Volunteers and Sustainability. This year please submit videos to zane.ruiz@mbacasecomp.com. Submissions can also be done in person on a flash drive as long as videos are submitted the evening before the deadline.
Video Length: Videos must be 45 seconds to 1  minute in length. No less. No more (exactly 1 minute is the maximum).
File Size: File size may not exceed 1GB.
Submission Format: Most common video file-types are accepted.
Rights: The team must own the complete rights of all elements of the submission.
Video Quantity: One video per team registered will be accepted.
Language: We welcome videos in any language, as long as non-English videos come with English subtitles.
Please note that submissions which do not meet these rules may be disqualified.
How will the contest be Judged?
Three winning teams will be selected by Mr Meder after the initial review of the videos by the organizing team of 9 members.
Timeline: The winners of the video theme will be announced within the first 2 days of the competition.
Contact: You may always reach us with questions: rahul.malik@mbacasecomp.com
Though the submissions are not mandatory, we hope to get as many submissions as we can as we aim to engage as many participants as we can and create some friendly competition in this new tradition! If you still can't find the answer to your question after reading through the FAQs page, please contact rahul.malik@mbacasecomp.com with your question.